Our
ambassadors
recount the
stories
Dutch Cuisine wants to offer a platform to all of the chefs in The Netherlands who convey our vision: cooking in a healthier, more well-informed, and tasty manner, from a sense of our Dutch identity. All this in a creative, free-thinking, individualistic, pragmatic way, and operating from the less is more principle. In that sense, Dutch Cuisine views the Dutch chefs as key ambassadors. They are able to convey the philosophy, recount the stories, fan out the recipes, and apply the principles in dishes and menus that carry the Dutch Cuisine label, and thereby make a significant difference. Dutch Cuisine therefore calls these chefs change agents. Dutch chefs such as Jonnie Boer, Niven Kunz, Albert Kooy, Bas Cloo, Jim de Jong, Jef Schuur and Leon Mazairac, lend Dutch Cuisine a new sense of distinction, and demonstrate what makes our Dutch cooking so rich. They are the present innovators, and the future explorers.
---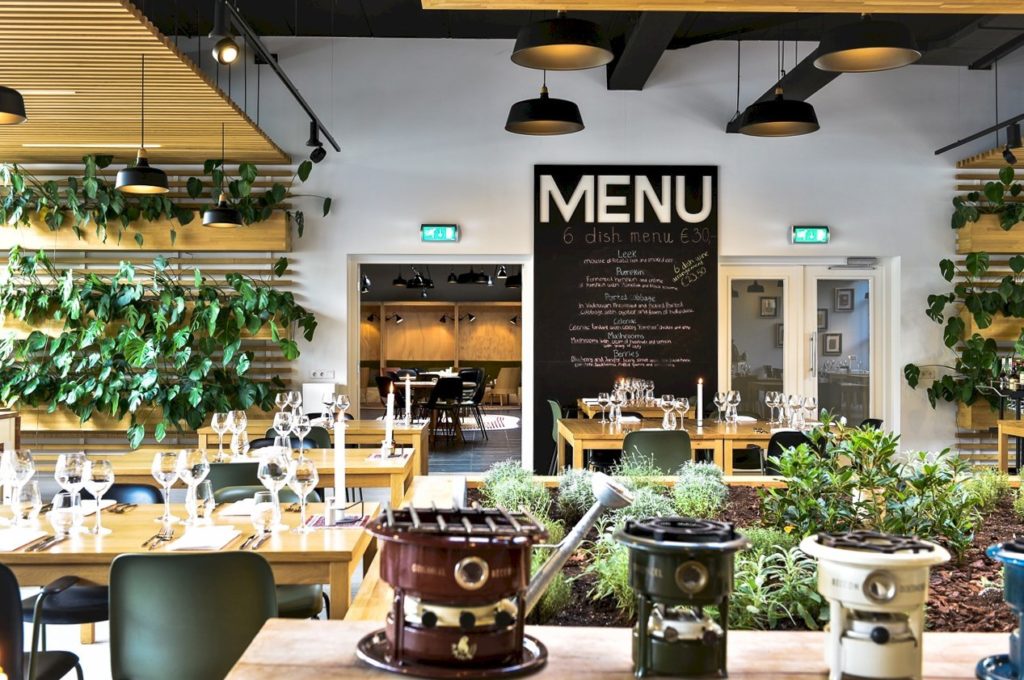 Restaurants
Dutch Cuisine aims to link up with as many chefs and restaurants as possible who will place at least one Dutch Cuisine dish on the menu. Dutch Cuisine organises various events in conjunction with umbrella and industry organisations such as Koninklijke Horeca Nederland and the Gastronomisch Gilde, and various events for professionals in the food sector, such as demos, workshops, talks, tastings and chef's tables. There are collaborations with councils, provinces and businesses from the food sector, as they have successfully charted and regularly approach the catering industry network of restaurants and chefs.
As of October 2017, Dutch Cuisine will further expand its out-of-home channels in conjunction with umbrella and industry organisations, businesses, councils and provinces. The municipalities of Amsterdam, Rotterdam, Ede and Groningen – Dutch Cuisine partners of the Green Deal's 'Food consumption sustainability enhancement' – have a number of frontrunner restaurants within their urban borders, through which they can present themselves via their city marketing operations. These frontrunner restaurants and new recruit Dutch Cuisine restaurants will be incorporated in the Dutch Cuisine Culinary Routes. For additional information, visit: Dutch Cuisine Culinary Routes.
BOLENIUS
Dutch Cuisine's flagship restaurant Bolenius, which opened its doors in late 2010, is located among the office blocks of the commercial heart of Amsterdam, and was voted one of the world's 25 best vegetable restaurants by We're Smart World. The restaurant has a 120m2 vegetable patch, where star chef and Dutch Cuisine ambassador Luc Kusters harvests part of his fresh daily vegetables and herbs. The choice was to use a modern and healthy kitchen, with plenty of vegetables and the use of seasonal and local ingredients. In addition, the cooking is done with modern techniques, whereby much of the emphasis is on vegetables and seasonal products. Luc Kusters: 'We place vegetables as much centre-stage as fish and meat, and make the difference with specific preparations and techniques. Inspiration is drawn from all over the globe, and we translate this to a minimalist Dutch cooking style'. Bolenius shows that healthy and tasty go well together, and that the (old) Dutch tastes are surprisingly contemporary.   
www.bolenius-restaurant.nl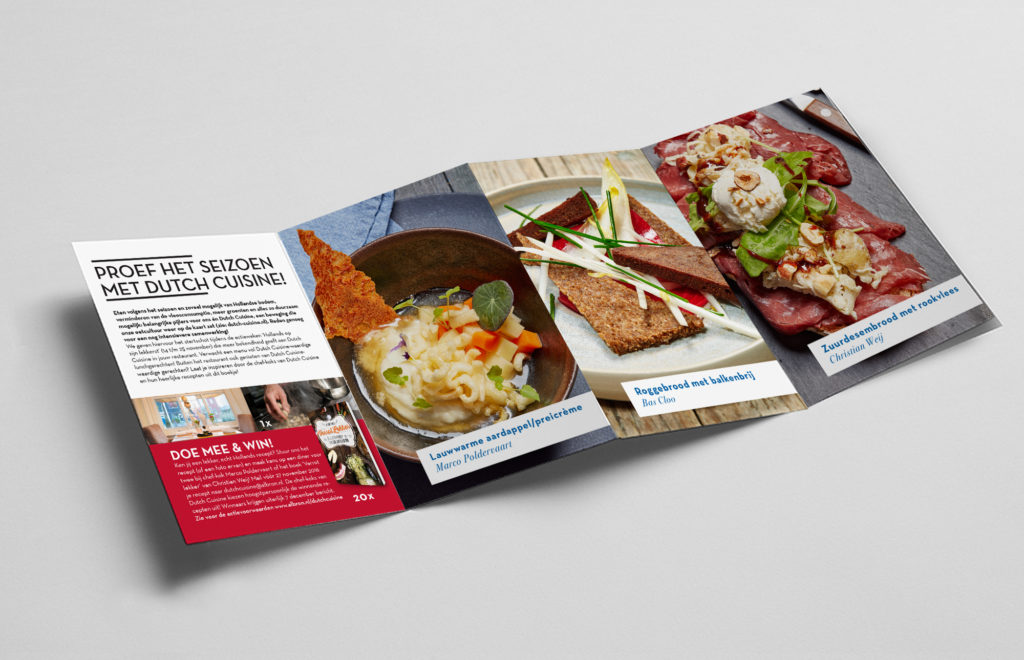 Corporate and chain restaurants
The major Dutch chains and corporate restaurants such as Albron, Sodexo, WeCanteen, De Bijenkorf, La Place and Van der Valk feed over 1 million consumers on a daily basis, thereby having an enormous impact on animals, humans, and the environment. In order to attain increased sustainability of food consumption, it is therefore very important that Dutch Cuisine works together with chains and corporate restaurants. The supply and demand aspect can be positively influenced and adapted where necessary.
Green Deal partner Albron for instance has announced that in 2018, it will provide its entire range with Dutch Cuisine dishes, in conjunction with Dutch Cuisine. Additionally, within the Green Deal 'food consumption sustainability enhancement' Dutch Cuisine will link up new chain restaurants with Green Deal partner Variatie in de Keuken (Variation within the Kitchen). The showcase at Van der Valk – a research project about the increase in vegetables and reduction of meat, by Variatie in de Keuken, willed be additionally rolled out to other out-of-home channels, and Dutch Cuisine will also place dishes on the menu at these locations. This entails mainstream locations with a wide customer base, such as HMS, NS and Van der Valk.