CHEF TRAINING
COURS STUDENTS
ARE THE CHANGE
AGENTS
If we wish to keep future generations healthy and guarantee a habitable planet, then an active and well-founded basic attitude is needed, starting with education. The current students at the chef training courses are the future change agents. These future chefs make up the primary target group within the field of education that Dutch Cuisine is focused on.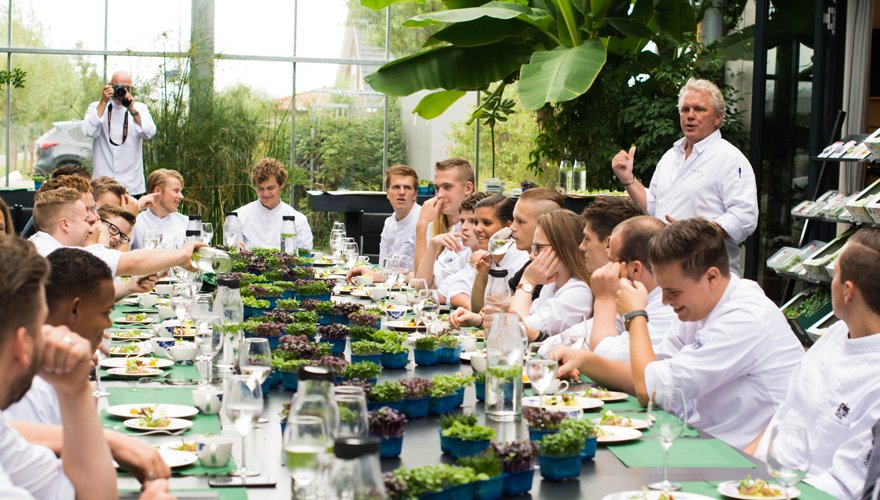 Dutch Cuisine within education
At the Willem I College in Den Bosch and the ROC Friese Poort in Sneek, the first level 4 Specialised Chef/Dutch Cuisine training course was launched. "Through this unique training course, we are motivating students to contribute to the catering industry and kitchen of the future, and get them to think about current food issues, such as transparency, food security, sustainable production, health and consumption", according to Twan Musters, educational supervisor of chef levels 2, 3 and 4 of the Koning Willem I College.
The Koning Willem I College and ROC Friese Poort have developed the training course in conjunction with SVH Master Chef Albert Kooy. The training course is being held both in Den Bosch and Sneek. The main focus of the training course is the five principles of Dutch Cuisine that were developed by Albert Kooy. This Dutch Cuisine philosophy is 100% sustainable and future-focused, with something to be gained by all: producers, consumers and the planet. Students will attain experience through internships, both in restaurants and also partially at catering companies during the training course. This way, the prospective chefs of the future will be presented with a wide future perspective.
The representatives of both catering industry courses are proud to have developed this training course together. Gerard Voskuilen, internship business coordinator and work experience lecturer at the ROC Friese Poort: "This training course lends added value for our students, enabling them to broaden their application, and it also ties in with the need for chefs who operate in a different manner". Both the Koning Willem I College and the ROC Friese Poort are already offering level 2 and level 3 chef training courses, based on Dutch Cuisine.